Patenend S&OE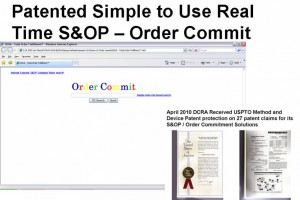 Ok, there so you are the smart one and jumped here first.   See the Order Commitment solution and patent at the solutions page at www.DCRASolutions.com
When you work with the economics and human factors of improving business through supply chain excellent you learn that NOTHING succeeds unless it is top down and bottom up useful and profitable.
Order Commitment is the ultimate blockchain based search engine for the supply chain and S&OP.  It is essentially a real-time search against real-time and decentralized S&OP data.    This patented solution is accelerating in providing competitive advantage with the explosion of decentralized S&OP data available over the net and block chain public and permissioned nodes.
After decades of solving these solutions we believe strongly in S&OP as a philosophy in running and measuring a business.  We also believe in using this capability to fulfill orders often incremental orders
We have patented our S&OP solutions and a real-time S&OP solution we call Order Commitment.    This capability allows for real time sycnchronization of the informaton of orders, treatment inventory, case transportation and production schedules to find and minimize cycle time to complete profitable orers
Using the Order Commitment enablers you can virtually link or fulfillment your virtual business or just find a way to reduce fixed costs and dramatically lower cycle time to commit the next profitable order.
This capability was created to server the "person" or group of people EVERY organization turns to when there are more orders or request for more inventory then is currently available.   It is this person or group that must dig into multiple systems, providers, allocation deallocations, product substitutions in-transit inventory, close window production windows and then predict a time period and order commitment.   This real time S&OP Order Commitment is built to SAVE time, increase accuracy and provide N number of real-time links to any and all sources of information in REAL-TIME.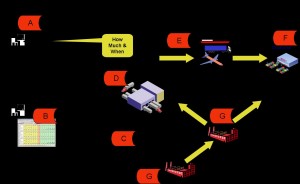 Call us for a demonstration and discussion of how to deploy for competitive advantage in your organization
We provide
Visioning for how this enables your business
Demonstration live in your business with your partners
License to proprietary patents for S&OP and real-time S&OP
Deployment to your quick wins
Strategic product and profits strategies